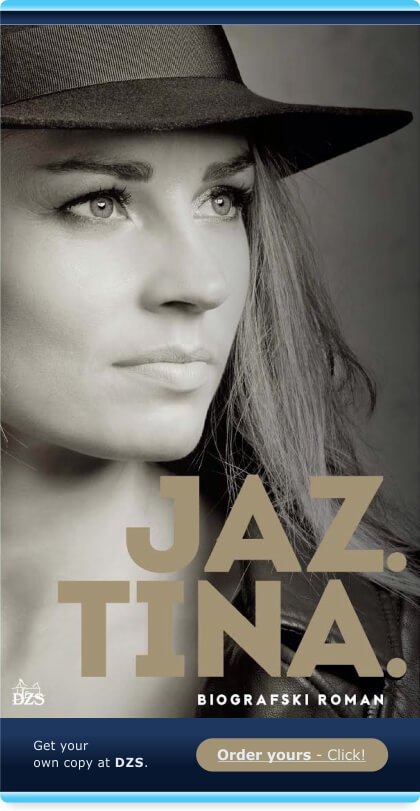 Biography
Born on 2.5.1983 in Slovenj Gradec. She learned how to ski with three years on the surrounding hills and slopes of her home town Črna na Koroškem.
In primary school, in addition to skiing, she also trained volleyball and studied piano. After primary school she attended gymnasia high school in Ravne na Koroškem and was simultaneously accepted in women B ski team. That was the first time she raced in FIS races. In just two days she achieved 2. nd and 1. st place. From position numbers 121 and 125.
A lot of nice memories are bounding her to those times, but also some hard ones. That was the time (year 2000) when she started to race in the World Cup. She was showing great potential, especially in giant slalom, but she never came on the level of her childhood sport friend Janica Kostelič.
Many team changes almost convinced her to finish her skiing career. But there came out brilliant idea. In year 2008, she and Andrea Massi (coach) established private team, called Team to aMAZE. They took different road.
Decision turned out to be right and brought great success. Since then she never turned back home without a medal on World championships or Olympic games.
She is especially proud that this small team managed to achieve maximal results with minimum funds. Finding the right balance of trust with Andrea, brought to incredible progress in sports. Working with him helped a lot. She learned that is big difference between being second or being a winner.
Tina won 26 World Cup races in her career, which makes her the best alpine skier in history of Slovenia. Together she won 13 medals on World Championships and Olympic games. She is 'world record' holder - 2414 points in one World cup season (male and female). In this breaking season she also recorded a song – My way is my decision.
After her professional sports career she concluded University of Education, works with ski brand Stöckli, Eurosport TV, proudly promotes her country Slovenia and other brands, sometimes gives motivational speeches but mostly finally living a dream of a mother! Skiing and sports remain passion and daily routine.
My Achievements
Rankings among first three in season 2014 / 2015


| | | | | | |
| --- | --- | --- | --- | --- | --- |
| 15.11.2014 | Levi | | Slalom | FIS World cup | 1 |
| 05.12.2014 | Lake Louise | | Downhill | FIS World cup | 1 |
| 07.12.2014 | Lake Louise | | Super G | FIS World cup | 3 |
| 12.12.2014 | Are | | Giant slalom | FIS World cup | 1 |
| 13.12.2014 | Are | | Slalom | FIS World cup | 2 |
| 21.12.2014 | Val d Isere | | Super G | FIS World cup | 3 |
| 13.01.2015 | Flachau | | Slalom | FIS World cup | 2 |
| 03.02.2015 | Vail - B.Creek | | Super G | FIS World champ. | 2 |
| 06.02.2015 | Vail - B.Creek | | Downhill | FIS World champ. | 1 |
| 09.02.2015 | Vail - B.Creek | | Super comb. | FIS World champ. | 1 |
| 09.02.2015 | Vail - B.Creek | | Downhill | Combined disc. | 1 |
Rankings among first three in season 2013 / 2014


| | | | | | |
| --- | --- | --- | --- | --- | --- |
| 12.02.2014 | Sochi | | Downhill | Olympic games | 1 |
| 18.02.2014 | Sochi | | Giant slalom | Olympic games | 1 |
| | | | | | |
| --- | --- | --- | --- | --- | --- |
| 16.11.2013 | Levi | | Slalom | FIS World cup | 3 |
| 15.12.2013 | St. Moritz | | Giant slalom | FIS World cup | 3 |
| 21.12.2013 | Val d'Isere | | Downhill | FIS World cup | 2 |
| 25.01.2014 | Cortina d Ampezzo | | Downhill | FIS World cup | 1 |
| 02.03.2014 | Crans Montana | | Downhill | FIS World cup | 3 |
| 13.03.2014 | Lenzerheide | | Super G | FIS World cup | 3 |
Rankings among first three in season 2012 / 2013


| | | | | | |
| --- | --- | --- | --- | --- | --- |
| 27.10.2012 | Soelden | | Giant slalom | FIS World cup | 1 |
| 24.11.2012 | Aspen | | Giant slalom | FIS World cup | 1 |
| 25.11.2012 | Aspen | | Slalom | FIS World cup | 3 |
| 07.12.2012 | St. Moritz | | Super G | Combined disc. | 1 |
| 07.12.2012 | St. Moritz | | Super comb. | FIS World cup | 1 |
| 08.12.2012 | St. Moritz | | Super G | FIS World cup | 2 |
| 09.12.2012 | St. Moritz | | Giant slalom | FIS World cup | 1 |
| 16.12.2012 | Courchevel | | Giant slalom | FIS World cup | 1 |
| 19.12.2012 | Are | | Giant slalom | FIS World cup | 3 |
| 20.12.2012 | Are | | Slalom | FIS World cup | 3 |
| 28.12.2012 | Semmering | | Giant slalom | FIS World cup | 2 |
| 29.12.2012 | Semmering | | Slalom | FIS World cup | 3 |
| 01.01.2013 | München | | City Event | FIS World cup | 2 |
| 04.01.2013 | Zagreb | | Slalom | FIS World cup | 2 |
| 13.01.2013 | St. Anton | | Super G | FIS World cup | 1 |
| 19.01.2013 | Cortina d`Ampezzo | | Smuk | FIS World cup | 2 |
| 20.01.2013 | Cortina d`Ampezzo | | Super G | FIS World cup | 3 |
| 26.01.2013 | Maribor | | Giant slalom | FIS World cup | 2 |
| 27.01.2013 | Maribor | | Slalom | FIS World cup | 1 |
| 05.02.2013 | Schladming | | Super G | FIS World champ. | 1 |
| 08.02.2013 | Schladming | | Downhill | Combined disc. | 1 |
| 08.02.2013 | Schladming | | Super comb. | FIS World champ. | 2 |
| 14.02.2013 | Schladming | | Giant slalom | FIS World cup | 2 |
| 24.02.2013 | Meribel | | Super comb. | FIS World cup | 1 |
| 24.02.2013 | Meribel | | Downhill | Combined disc. | 1 |
| 01.03.2013 | Garmisch-Partenk. | | Super G | FIS World cup | 2 |
| 02.03.2013 | Garmisch-Partenk. | | Downhill | FIS World cup | 1 |
| 09.03.2013 | Ofterschwang | | Giant slalom | FIS World cup | 2 |
| 10.03.2013 | Ofterschwang | | Slalom | FIS World cup | 1 |
| 16.03.2013 | Lenzerheide | | Slalom | Combined disc. | 3 |
| 17.03.2013 | Lenzerheide | | Giant slalom | FIS Svet. prvenstvo | 1 |
Rankings among first three in season 2011 / 2012


| | | | | | |
| --- | --- | --- | --- | --- | --- |
| 20. 12. 2011 | Flachau | | Slalom | FIS World cup | 3 |
| 29. 12. 2011 | Lienz | | Slalom | FIS World cup | 2 |
| 3. 1. 2012 | Zagreb | | Slalom | FIS World cup | 2 |
| 8. 1. 2012 | Bad Kleinkircheim | | Super G | FIS World cup | 2 |
| 15. 1. 2012 | Cortina d`Ampezzo | | Super G | FIS World cup | 3 |
| 27. 1. 2012 | St. Moritz | | Super combined | FIS World cup | 2 |
| 12. 2. 2012 | Soldeu | | Giant slalom | FIS World cup | 2 |
| 2. 3. 2012 | Ofterschwang | | Giant slalom | FIS World cup | 2 |
| 3. 3. 2012 | Ofterschwang | | Giant slalom | FIS World cup | 3 |
| 14. 3. 2012 | Schladming | | Downhill | FIS World cup | 3 |
| 24. 3. 2012 | Petzen | | Giant slalom | National champ. | 1 |
Rankings among first three in season 2010 / 2011


| | | | | | |
| --- | --- | --- | --- | --- | --- |
| 12. 12. 2010 | St. Moritz | | Giant slalom | FIS World cup | 3 |
| 21. 12. 2010 | Courchevel | | Slalom | FIS World cup | 3 |
| 02. 01. 2011 | Muenchen | | City event | FIS World cup | 2 |
| 11. 02. 2011 | Garmisch Partenk. | | Super combined | FIS World champ. | 2 |
| 17. 02. 2011 | Garmisch Partenk. | | Giant slalom | FIS World champ. | 1 |
| 25. 02. 2011 | Are | | Super combined | FIS World cup | 2 |
| 26. 02. 2011 | Are | | Downhill | FIS World cup | 2 |
| 04. 03. 2011 | Tarvisio | | Super combined | FIS World cup | 1 |
| 12. 03. 2011 | Spindleruv Mlyn | | Slalom | FIS World cup | 3 |
| 18. 03. 2011 | Lenzerheide | | Slalom | FIS World cup | 1 |
| 26. 03. 2010 | Ribnica na Pohorju | | Slalom | National champ. | 1 |
Rankings among first three in season 2009 / 2010


| | | | | | |
| --- | --- | --- | --- | --- | --- |
| 12. 12. 2009 | Are | | Giant slalom | FIS World cup | 2 |
| 17. 1. 2010 | Maribor | | Slalom | FIS World cup | 2 |
| 20. 02. 2010 | Whistler Creekside | | Super G | Winter olympics | 2 |
| 25. 02. 2010 | Whistler Creekside | | Giant slalom | Winter olympics | 2 |
| 11. 03. 2010 | Garmisch Partenk. | | Giant slalom | FIS World cup | 1 |
| 25. 03. 2010 | Kope | | Giant slalom | National champ. | 1 |
Rankings among first three in season 2008 / 2009


| | | | | | |
| --- | --- | --- | --- | --- | --- |
| 10. 01. 2009 | Maribor | | Giant slalom | FIS World cup | 1 |
| 12. 02. 2009 | Val d Isere | | Giant slalom | FIS World champ. | 2 |
| 22. 02. 2009 | Tarvisio | | Super G | FIS World cup | 3 |
| 28. 02. 2009 | Bansko | | Downhill | FIS World cup | 2 |
| 01. 03. 2009 | Bansko | | Super G. | FIS World cup | 3 |
| 14. 03. 2009 | Are | | Giant slalom | FIS World cup | 1 |
| 24. 03. 2009 | Kope | | Super G. | National champ. | 1 |
| 27. 03. 2009 | Kope | | Giant slalom | National champ. | 1 |
Rankings among first three in season 2007 / 2008


| | | | | | |
| --- | --- | --- | --- | --- | --- |
| 02. 02. 2008 | St. Moritz | | Downhill | FIS World cup | 1 |
| 30. 03. 2008 | Areh | | Slalom | FIS Race | 3 |
| 04. 04. 2008 | Krvavec | | Giant slalom | FIS Race | 1 |
| 05. 04. 2008 | Krvavec | | Giant slalom | FIS Race | 3 |